About Larkin City
Larkin City, Maine is a fictional harbor town featured in the Collective Obsessions Saga by Deidre Dalton.
Larkin City is marked with the double-sided red arrow on the map pictured at right. Click on the image to view larger map size in a new window.
The Larkin estate is located six miles outside the city limits. The family mansion is collectively based on several existing structures, including:
The house is a combination of vernacular Châteauesque and mock Tudor design, with elaborate towers, spires and black-mullioned windows. Ivy and moss cling to the exterior walls, giving the mansion a rather eerie ambiance.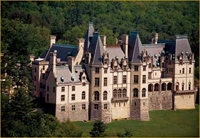 The family cemetery on the Larkin estate was inspired by gothic images from the game Return to Ravenhearst (Mystery Case Files).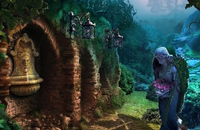 Other notable buildings in Larkin City include the ever-popular Bruno's Café (established 1926), Amber Whale Tavern (pictured below), Brickyard Square, Clyde's Billiard Hall (established 1956), Banshee Point Hotel, Golf Course & Winery; Phoebe's Boutique (replaced by the Amber Whale), The Byre Resort, Larkin City University (LCU), the Silver Tassel Restaurant, and the Coven Nightclub.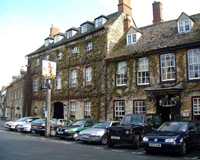 For more information, download the bonus guide About Larkin >

Learn more about Larkin City >

Learn more about the Larkin Estate >
---